Hey all! I'm here with a parts announcement. :thumbsup: I installed a TrailTech Vapor on my Seca II last year, and yesterday was on the webpage looking for something and saw that they have a new product available. A 7" rugged LED headlight.
Here's the info:
http://www.trailtech.net/7-inch-led-headlight
Image and text from that page (there's a YouTube video too, but the music is terrible

) :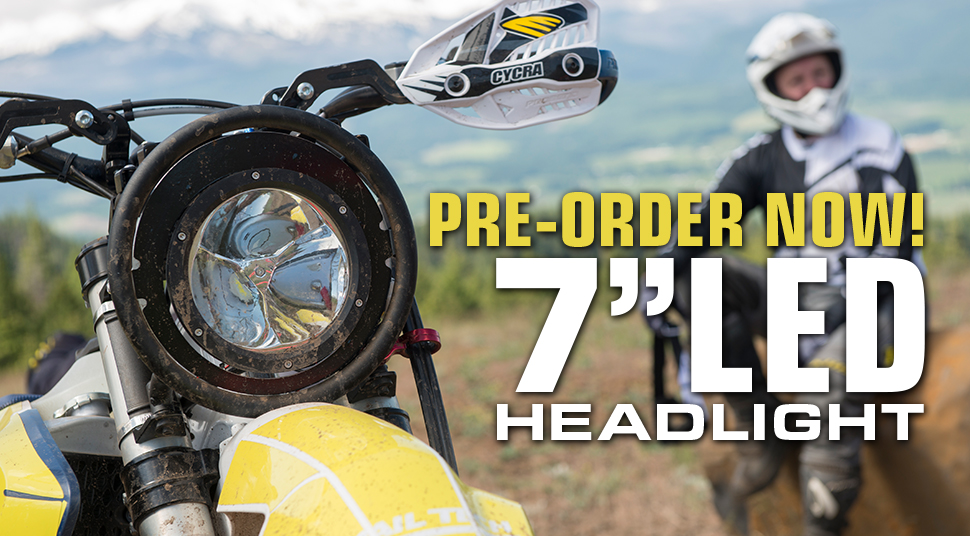 Introducing our NEW universal fork mounted, low power draw, waterproof (IP67 certified), high output, 7" LED Headlight. The large format reflector design ensures extreme lighting performance, projecting deep into the darkest night. The rugged aluminum housing provides protection in harsh riding conditions. Trail Tech's rigorous field testing gives you the peace of mind to ride confidently. This 7" LED Headlight comes complete with everything needed for a simple installation.

Call our Customer Service team to Pre-Order your's today. Let's Ride!

Universal fit
Full wire loom included
Waterproof switch included
Voltage: 9-32V DC
Operation temperature: -40°C~60°C
Lumen: 4700lm
Lifespan: 50000 hours
Waterproof rate: IP67
I shot off an email to the chap at TrailTech who'd helped me a LOT with wiring up the Vapor, regarding price and general info. Here's what I got back:
Right now it is looking like the pricing going to be

$325.95

but that is not set in stone yet

.

This light is extremely tough. We have been doing testing on it for almost a year to make sure of this before releasing it for sale. I personally run one on my KLX300 and love it.
So there you have it. There's quite a handful of LED headlights out there, but most I've seen are bike-specific to newer models, or cheap eBay knockoffs. I thought this might be a good option for anyone shopping!
=S2=