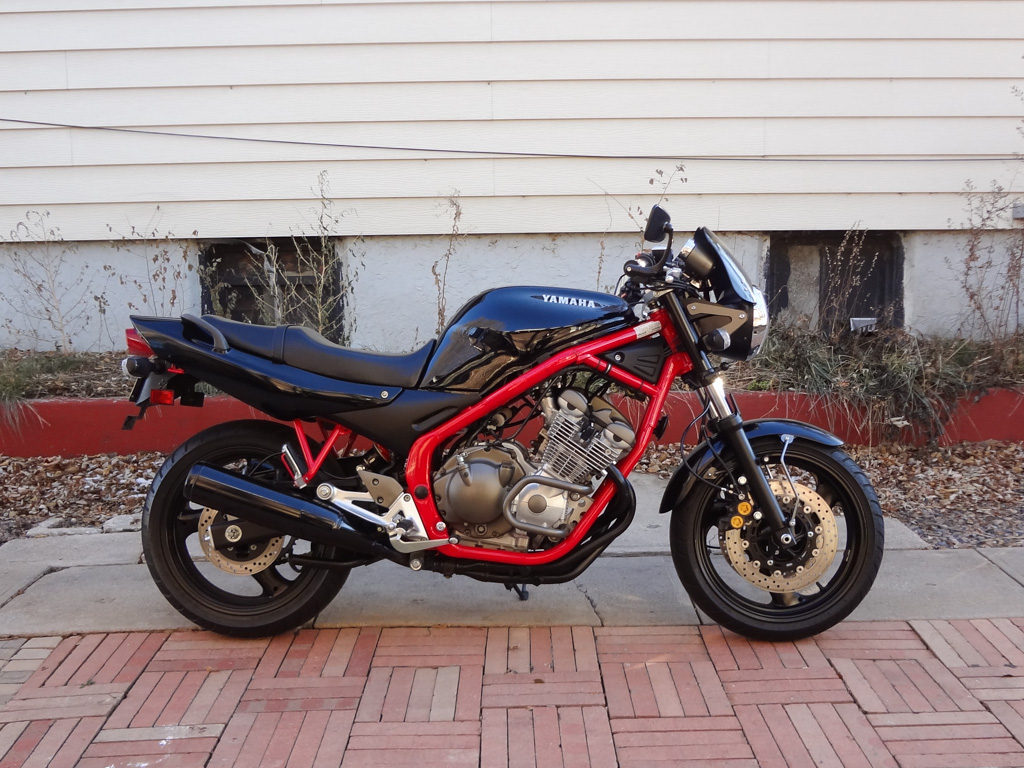 After 500 miles, it's time for a review/followup.
How are things holding up?
I've had no teething-issues whatsoever with the rear wheel swap. The rear brakes are working well, the chain and sprockets alignment is spot-on and the hybrid torque arm is doing it's thing without issue. I've had nothing to fix, change or modify.
What changes have you noticed in handling?
Keep in mind that these are seat-of-the-pants statements so-to-speak.
The bike feels agile; it feels like it responds more quickly to steering inputs and it wants to lay right over in the corners. I noticed during the first few rides, that it was easy to over-turn in the corner and I had to give the bike less input on the bars.
Grooves in concreted roadways feel less obvious and the bike feels absolutely stable at all legal speeds. I couldn't induce instability at 80mph by rocking the handlebars.
The FZ6R shock and the low-profile rear tire had really tightened up the rear suspension. It's sporty and firm now. It may be too firm though time will tell. I need to get out and take it through some good clean canyon roads to tell for sure. I'll update you all in the summer when I can do that.
How do the Suzuki brakes feel?:
The Suzuki GS500 brakes (with EBC HH pads) feel great. I don't know if its the caliper or the new stainless steel line but the brakes feel much more responsive; there is decent modulation but the pedal feels much more rigid when I push on it hard. I haven't tried to lock up the rear brakes yet as I'm still breaking in the pads/rotor.
Is there anything you'd do differently?
I am running a 150/60 rear tire and a 46T sprocket. This puts the bike at 4k RPM, in 6th gear, at 55 mph. The vibrations peak at about 60mph and by 65mph, she's smooth as glass. I seem to cruise a lot at 55mph, though, and I do notice the vibrations. I would consider installing a 150/70 and a 49T sprocket, if I were to do it again, to move the location of the vibes higher in the speed range.
Other than that, though, no, I wouldn't change a thing. I was originally second guessing my decision to install Suzuki brakes, but after using the bike in the new condition, I think it was a good one. They clean up the installation and keep things looking stock. And by building a hybrid torque-arm, things look like they were meant to be this way.