I have officially decided to abandon my
Parts Bin Tourer
project. I put a lot of work into it, had fun, learned a fair bit and spent a lot of money. I sorted out the Bandit 600 wheel swap, the R1 electronic speedometer conversion, and proved that you can put other fairings on the XJ. But in the end, I don't see this bike fitting into my garage. I already have two other XJ's that I enjoy riding and both are capable of distance touring. Bolt a set of Givi E21 bags onto my
red '92 Seca II
and it'd be ready.
I've let PBT sit in my garage for the past two years and collect dust. It hasn't moved.
As I've already mentioned, I've decided to give up on PBT. But NOT give up on this bike. Instead, I am going to repurpose the project and move it in a direction that will result in something I can use. It has occurred to me that I don't want to take my two complete XJ's down dirt roads, but many of the things I want to see in Colorado require some sort of dirt travel. So this one, instead of being another pretty faired bike in my garage, would be one I could take out and go camping with, ride some dirt-roads in Utah with, or take up to Yellowstone. The idea would be, comfortable, capable, light and simple. With no pretty bodywork to worry about and plenty of places to attach racks. If you want to label it, I'd call it a Seca II Scrambler.
Some requirements for this new project are as follows:
Use as many of the parts that I already have, as possible
Minimize the amount of bodywork to damage or worry about scratching.
Keep it as simple, straightforward and light as possible
It should be comfortable enough for full-day rides, both sitting and standing
I don't have to have the final version done on the first shot; it can be a work in progress
With those things in mind, here's a cartoonistic drawing showing what I have in mind: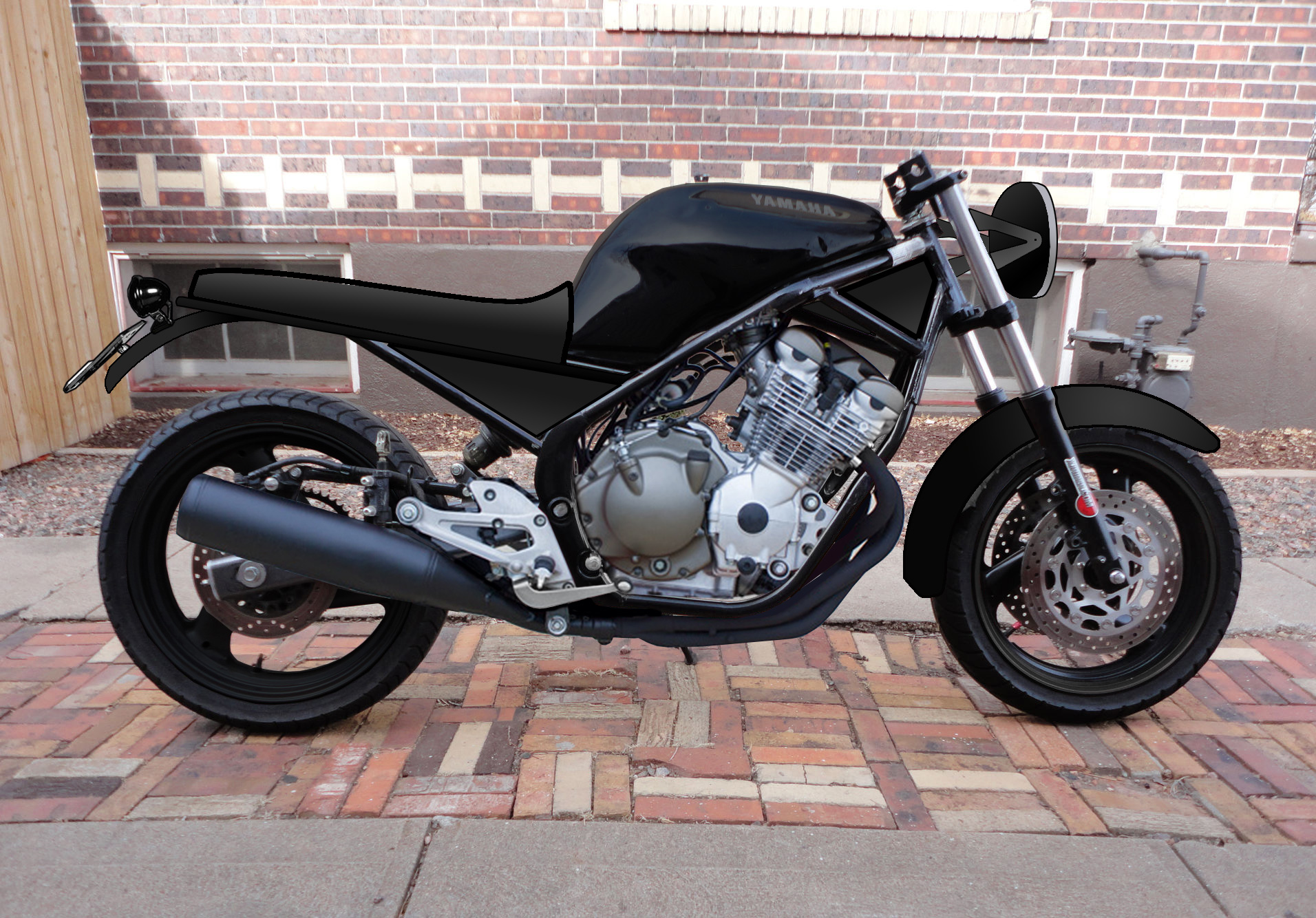 I have a lot of the parts to put this one together in my parts-bin, currently. I'd run the FZR600 front suspension, Bandit 600 rear wheel, build a simple new tail and custom seat, and run a round headlight with electronic gauges (remember that R1 cluster I have?). I'd fit the wheels with a set of Avon Distanzia tires.
Considering all the parts I currently have, I plan to use the following:
7" Delkevic headlight I have on the workbench
Spare set of signals sitting in K's garage
Spare set of prototype headlight brackets
R1 electronic speedometer I bought a few years back
FZR600 front end, that's already on it.
Blue-dot calipers that are in my basement
Daytona handlebars that are currently on it.
16mm master cylinder I accidently bought for my red '92
Stock clutch perch from my black '92
The stock engine, airbox, carbs and bits that came in the box with PBT when I bought it
Stock fuel pump that's sitting in a box in the garage
Stock header and exhaust that I removed from my black '92.
Vstar 650 shock that I pulled off the black '92 earlier this year.
17" RF600 wheel I bought for PBT and have in my garage
Bandit 1200 caliper & bracket I bought for PBT and have in my garage
GS500 sprocket carrier I bought for PBT and have in the garage
Custom sprocket spacer I had made last year
The stock wiring that I bought for PBT earlier this year
FZ-07 tail light sitting in K's garage
Set of engine guards that I'll be pulling off of the red '92 to fit the belly pan on it.
I'd need to source or buy:
A stock fuel tank
A new petcock
GS500 rear caliper
Spacers for the rear wheel
Suzuki Gladius sprocket
A stock swingarm that isn't cut up
Set of Napoleon bar-end mirrors (actually, I'd buy these for my black '92 and put its old mirrors on this one)
A custom seat
Pair of Avon Distanzia tires; 150/70-17 rear, 120/70-17 front
This one would actually be from the parts-bin, just not in the way I'd originally intended before I got carried away.