*Part 1*
- Well, I decided last night that I would start a project thread. Admittedly, it won't be very active for projects for now and the near forseable future. I don't currently have a garage, so I don't get a lot of good opportunities to work. That, and I'm too poor to buy parts! Still, I know I'll do some things here and there when I can. More importantly, though, I'd like to keep a history of my experience with my XJ's, and I thought this would be a good place to do it. So, I'm gonna start by going back in time to document my start with XJ's, and we'll see where it goes from there!
- I grew up on dirt bikes, quads, and snowmobiles. The first street bike I ever owned was a '86 Yamaha Virago XV1100S. It was an awesome bike in outstanding condition in the special gold trim edition. I got it from a friend who had two of them identical, and he was kind enough to sell it to me for a paltry $600. I really loved that bike, even though the frame felt a bit small for me. I had big plans to completely restore it, but I had to let it go the very next year for personal reasons.
* Here's a pic of me and my oldest riding my Virago in a parade:
- In 2010, just a couple years later, I put the word out to some friends that I was looking for a cheap sport bike. I had very little money to work with, but needed something reliable, powerful enough for highway speeds, and hopefully fun to ride. I like cruisers a lot, but sport bikes looked like so much fun and I really wanted to try one out. Plus, even on dirt bikes and my Virago, I've always had a tendency to put my feet on the rear pegs and kind of lay out on it for high-speed cruising. A sport bike seemed natural for me.
- Finally, on June 10th, 2010, a friend told me her brother was selling a '94 Yamaha XJ600 Seca II because he was leaving for the military. She said it ran good, and just needed a new battery. The price? I'm not making this up...$600...again. When she rode it over to my house, I fell in love with it pretty quick.
- For an XJ, it was pretty ugly; bad yellow painted body on a smurf-blue frame (it looked like a horrible attempt at a University of Michigan theme). The fairing was pretty beat up from at least being dropped. The front fender was broken. The windscreen was missing. The engine covers on both sides were badly scratched from spills. The exhaust was scratched, along with a cracked muffler, a couple missing header nuts, and a broken header stud. The tank had a large dent in it. The seat had a small tear. The speedometer didn't work; and hadn't for an estimated 5,000 miles. The front tire was nearly worn out. It was a mess from leaking oil. It ran, but seemed to really bog and lack power. Plus, I didn't notice till later that the forks were badly bent; probably from the accident that broke the front off the front fender. She was rough, but it was a sport bike, it ran, the price was right, and as ugly as it may have been, yellow is my favorite color. The "Shooting Star", as I dubbed her since I'm a huge Speed Racer fan, didn't leave my driveway that day. Soon after, she was wearing a license plate that read "RCRX" with big plans for an eventual rebuild in a darker yellow, black, and polish/chrome.
* Here's pics of "Shooting Star" the day I bought her for $600: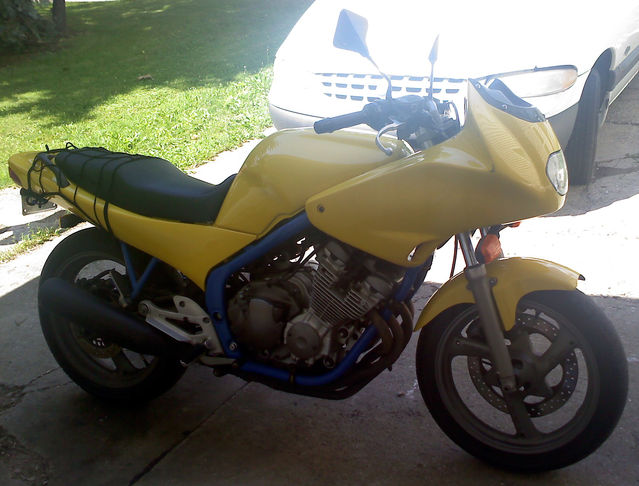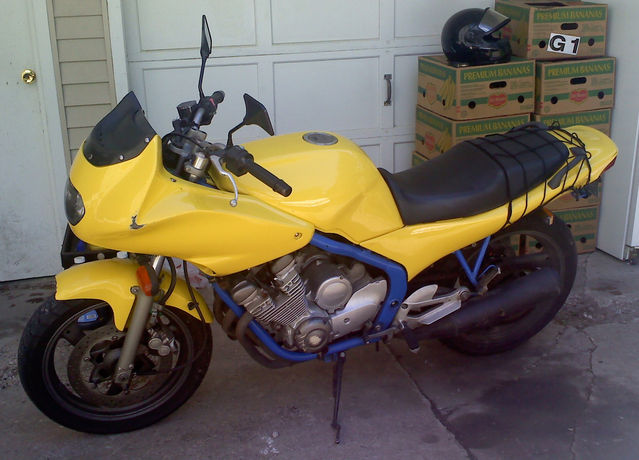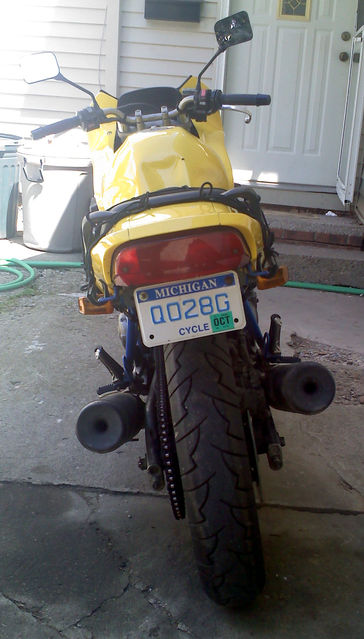 - I rode that bike everywhere I could that season; school, work, church, store-runs...man, I was hooked. Over the summer, I did what maintenance and repair I could here and there. She got a new battery right away. Within a couple days, I found the bogging problem; she had a K&N air filter...that was packed full of mouse nest. Man, did she ever ride better when that was cleaned out! Still not perfect, though, after some more inspection I found the air box-to-carb boots were dried and shrunk enough that they didn't seal anymore. $40 for a set off eBay, and she had a lot more power. As a matter of fact, then she had enough power for me to finally notice how badly the clutch slipped. It was bad, even with a fresh Yamalube oil change. Well, that would have to wait until I had more money. I rode her as far into the cold season as I could stand it, but in Michigan, every bike season has an end. Unfortunately, by this time we were living in an apartment, and I had no choice but to leave my poor baby out in the cold and snow.
- As soon as it was warm enough (okay, maybe a bit before that ), I fired her up for the first ride of the year. It was just a 2 mile ride to church, but oh man, it felt so good to ride again! However, when I got to church, I noticed a lot of oil coming from the top of the engine. When I turned the engine off and leaned her on the stand, there was a sudden stream of oil pouring on the ground! She literally puked about a quart of oil on the ground in just a couple minutes, and I had no idea why or where it was coming from. When I rode her home, the same thing happened again; fine at first, but once she got hot, oil came pouring out again. I rode her a couple more times, putting in more oil and watching it pour out again. It wasn't just at stop, either. On a longer ride, it kept spewing oil enough to burn my leg as it blew back and soaked my pant leg. Upon closer inspection, I finally found that the oil wasn't leaking from the engine; it was coming from a drain hole in the air box. I pulled it open, and sure enough; the air filter was soaked with engine oil and the box had seen enough oil to totally deform the seal. After talking to several mechanics...I had no solid answers. Nobody could suggest anything short of lots of labor $$$ diagnosing, and the likely need of a $700 rebuild. They all suggested possible bad piston rings, but that didn't seem likely to me as the engine didn't act any different. It still had full power, and would still make it to 120 mph, which I think would be unlikely if the piston seal was so bad it was pumping oil out of the engine. My thought was more along the lines of a plugged oil galley in the engine, but that still required disassembly to diagnose, and I had no garage and no money. My poor baby got parked less than one month into the riding season...and there, in one of my dad's sheds (big farm), she sat in exile until the next summer.
...to be continued...